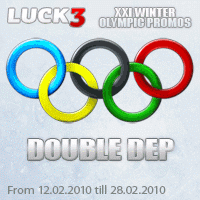 Casino Warning! Player Warning! Avoid playing at Luck3 Casino and Luck3 Poker! Due to unresponsive support along with players not being cashed out, we no longer recommend playing or depositing at Luck3 Casino or Luck3 Poker.
There are also rumors that the poker room may be shutting down without notice to players or affiliates!.
With the 2010 Winter Olympics underway in Vancouver crowning the top athletes in the world with gold, silver and bronze medals in what is usually the toughest competition in sports. Luck3 Online Poker and Casino is hosting a special Olympics of their own in honor of the winter games! These challenges range from casino tournaments, online poker tournaments, free chips and special player bonuses.
Luck3 Poker and Casino has announced five unique promotions that run throughout the month of February 2010! Some promos are held at the online casino while others are scheduled for the US friendly online poker room.
The promotions are open for all players to take part in, if you are not yet playing at Luck3, this would be an excellent time to join up! Let's have a look at these special casino and poker promotions:
Luck3 XXI Winter Olympic Promo Details:
Luck3 accepts US poker and casino players! The Luck3 poker room operates on the Cake Poker Network and the Online Casino uses a private, propriety software. You won't find the games at Luck3 Casino anywhere else! You can learn more about Luck3 Casino including screenshots, funding options, other bonuses and more at our Luck3 Casino review.